The week began with Michel Barnier's amusing words that the chances of reaching a compromise on a trade agreement between London and Brussels are slim. In fact, the EU's main negotiator has admitted that the parties are still procrastinating, although there is not much time left. The situation was worsened by Boris Johnson's statement that he is ready to abandon further negotiations, which will make Brexit regulated with unpredictable consequences, although the consequences are generally clear – London will suffer serious economic losses. In view of this, the pound sharply declined pulling the euro along with it. So, it is not for nothing that various media outlets have recently been actively discussing the fact that the European Union will suffer enormous economic consequences if a full-fledged trade agreement is not signed, which everyone knew anyway. It is clear that Europe will suffer, but only slightly and it will recover from this very quickly. Moreover, unregulated Brexit is even beneficial for Europe in the long term. Thus, euro's weakness was purely emotional in nature. However, Boris Johnson seemed to have forgotten what he had said in the morning, as he announced his urgent trip to Brussels for personal talks with Ursula von der Leyen half a day later as well as hinting at the possibility of meeting with Angela Merkel and Emmanuel Macron.
Against this background, the pound immediately recovered all its losses after being shocked with such an instant change. It was followed by the euro, but not so smartly. In general, it looks like London and Brussels are trying to provoke each other, hoping that someone will break down and make drastic concessions. After all, they are really lacking time. On Thursday, the EU summit will already start, during which the content of trade agreement with London will be considered. It turns out that the parties have only two days left, and the documents will be studied already during the summit, if it turns out at least something to agree. However, London and Brussels had several years to do this, and during this time such insignificant issues as state regulation, technical regulations and state support measures have not moved. These are fundamental questions, so progress is only possible if one of the parties suddenly gets scared and abruptly abandons its position on these issues, which will cost a lot. More so, Europe is unlikely to give up its demands, as it is well aware that its economy will most likely only benefit in the end, even if an agreement is not reached. In turn, London faces a difficult choice that it has not been able to make for many years. And all because the UK expects to achieve exceptional preferences, much greater than it had even within the European Union. In essence, the UK's position is to maintain free access to the European single market, with the ability to regulate the access of European capital to its own market. But over the course of a few years, it was still possible to learn that Brussels does not allow such a possibility. Thus, all these endless attempts to send threats/blackmail, which is getting very cheap, look extremely child-like. In any case, today and tomorrow's movement of the pound and euro will depend on Boris Johnson's diplomatic successes or failures.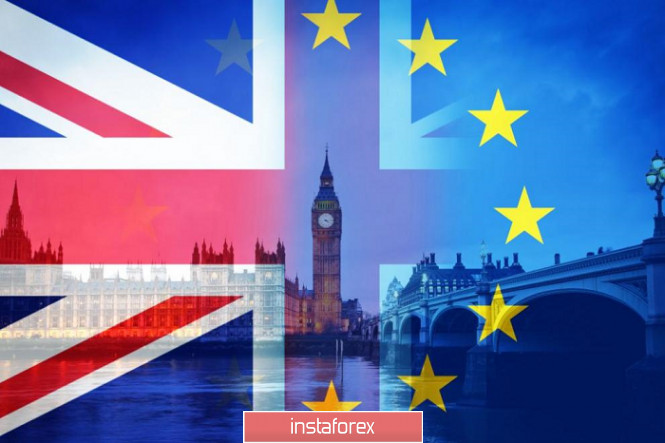 It is very clear that today's publication of Eurozone's third estimate of GDP for the third quarter will not be interesting. This is not only due to the dramatic events overshadowing it, but also because of previous estimates coinciding with it, which showed a slowdown in the rate of economic decline from -14.8% to -4.4%. Thus, investors will not see anything new, which means there is no reason for any sudden movement. Nevertheless, the data indicate a strong recovery (albeit far from being completed) in the European economy, which has been severely affected by the pandemic.
GDP growth rates (Europe):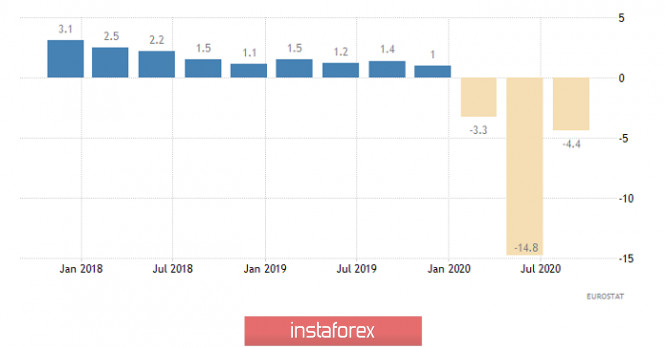 The EUR/USD pair found a resistance level located at 1.3180 during the upward trend, where there was a slowdown and as a result a flat in the range of 1.2080/1.2180. It can be assumed that the movement in a given range will continue for some time in the market, where the method of breaking a particular border is considered to be the best trading tactic.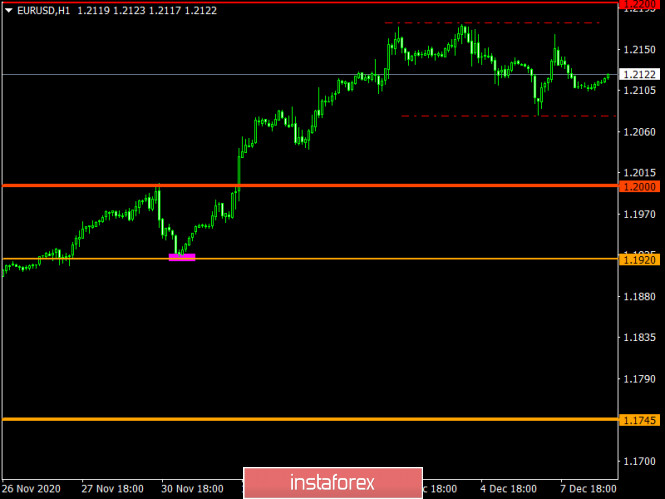 In turn, the GBP/USD pair is showing high activity, where the quote managed to locally surged by more than 200 points. The coordinates 1.3225, 1.3300, and 1.3400 are selected as the levels of price interaction with market participants.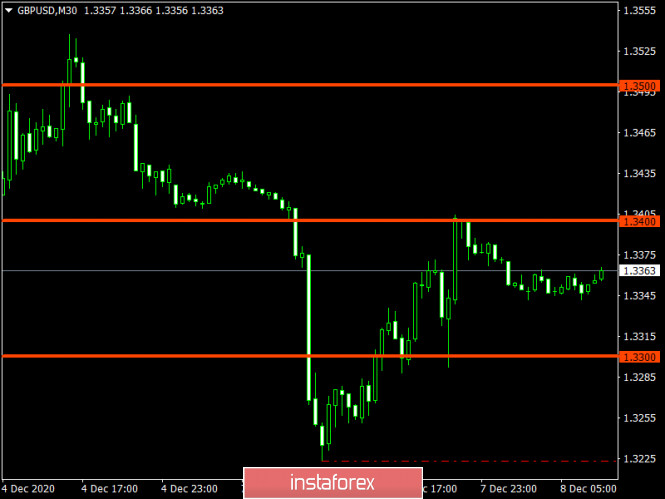 It can be assumed that speculators will continue to follow the information flow, where previously identified price levels can be broken, depending on the nature of the incoming information.
The material has been provided by InstaForex Company – www.instaforex.com
🚀If you want to get a Forex Robot Coded as per your trading strategy but are unable to do so because of the high price for the Robot then you can take advantage of the CROWD FUNDING campaigns feature. ✔ These are some crowd funding campaigns for Forex Robots, which when completed can provide the very same Forex Robot to the participants at an average price of $5-$10 per participant. ✔ You either participate in one of the already listed campaigns or send us your Forex strategy : Submit Crowd Funding Campaign , for which you would like the Forex Robot to be coded. A Crowd Funding Campaign would then be started for the same . ✔ All you have to do later on is to share the campaign online with your friends to encourage more people to participate in the campaign.
As a result, each participant can get that Forex robot for just a campaign contribution of $5 (which is the minimum). Participants can back the campaign by anything above or equal to $5 to reach the funding goal to close the campaign.