4-hour timeframe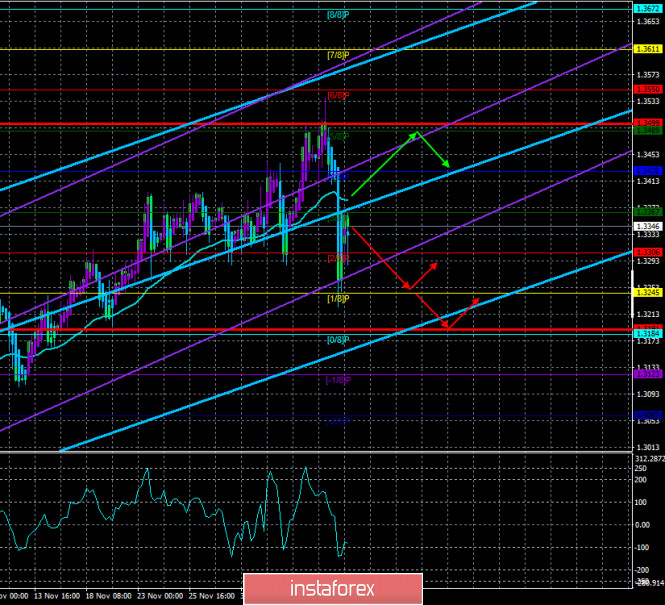 Technical details:
Higher linear regression channel: direction – upward.
Lower linear regression channel: direction – upward.
Moving average (20; smoothed) – sideways.
CCI: -86.7757
On Monday, December 7, the British pound fell by 200 points. Thus, first, traders can once again see that there is no correlation between the two main pairs at all, and, secondly, we have long warned that the strengthening of the British pound is even more strange than the growth of the euro currency. The strengthening of the euro can be explained at least by the interest of major speculators or the actions of major players. Thus, it is likely that the fall in the pound's quotes on Monday will be the long-awaited start of a new long-term downward trend. Of course, it is not quite correct to conclude for one day, however, it is also impossible to ignore the 200-point drop. So far, we can say one thing: the pound/dollar pair has fixed below the moving average line, so the trend has changed to a downward one. Therefore, starting from today, we should consider trading on the downside.
Meanwhile, we can now say with confidence that another "brilliant" bluff by Boris Johnson did not work again. The British Prime Minister can not understand that he is not opposed (relatively speaking) to Uganda or Morocco. The entire European Union is now working against him, and his pathetic attempts to make a "good face at a bad game" do not impress Europeans. From the very beginning of the "divorce process", the European Union has clearly stated that it does not want to lose Britain and hopes that its power will change its mind (or change). Further, the EU authorities stated that they need a deal and are ready to work on it, however, it will take a long time to agree on such a large agreement that affects many areas of life. After all, London and Brussels are discussing not only trade conditions. They discuss future relations in all areas of mutual coexistence. Naturally, six months is extremely short for an agreement of this level and volume. Brussels has been talking about this from the very beginning, suggesting that London should extend the "transition period" for two years. However, Boris Johnson refused, and now the end of the "transition period" is just over three weeks away. Both sides make it clear from time to time that there is little progress, however, most of the statements from both sides reflect a lack of progress on three key issues.
Meanwhile, France is increasingly interfering in the negotiations. It is France that may be most affected by the lack of access for its sailors to British waters for fishing. Or from the huge fish catch repatriations that London demands. Thus, Paris can safely veto the agreement with London if it does not suit it. This is exactly what we have already written about more than once. It's not enough for Michel Barnier and David Frost to agree on a deal. It still needs to be approved by both parliaments. And both parliaments are not just a few hundred deputies. 27 countries of the alliance are represented in the European Parliament, and all countries need to approve the agreement. Otherwise, the situation may be the same as it is now with the budget for 2021-2027 and the recovery fund. Well, there is very little time for everything about everything. Three weeks for the deputies of both parliaments to get acquainted with the multi-page document, analyze it, and then vote for it. Now it looks fantastic. Thus, we remain with our original opinion: either the negotiations will continue in 2021, or there will be no deal between London and Brussels at all. And also the second conclusion: the British pound will fall almost in any case. The current rate has long been based on a deal that has not yet been reached. Thus, even if it is eventually agreed, traders will not make new purchases of the British currency on this basis.
Well, all other factors now do not play a special role. Traders persistently and diligently continue to ignore the macroeconomic background. For example, on Friday, quite important reports were published in the States, which in total should have provoked a new fall in the US currency. But, since the US dollar has been falling for quite a long time, traders once again ignored this data and the US currency began to rise in price. Well, from a technical point of view, yesterday's collapse was impossible to predict, and it is even more difficult to work out. The bar where the moving average line was broken immediately took the pair 200 points down. Naturally, it was too late to open short positions after this bar. However, the pound has not traded much better in recent weeks or even months. Such movements are now a normal situation. It reflects the mood of traders and their calmness (lack thereof).
The average volatility of the GBP/USD pair is currently 154 points per day. For the pound/dollar pair, this value is "high". On Tuesday, December 8, therefore, we expect movement inside the channel, limited by the levels of 1.3191 and 1.3499. A reversal of the Heiken Ashi indicator up signals a new round of upward movement.
Nearest support levels:
S1 – 1.3306
S2 – 1.3245
S3 – 1.3184
Nearest resistance levels:
R1 – 1.3367
R2 – 1.3428
R3 – 1.3489
Trading recommendations:
The GBP/USD pair on the 4-hour timeframe is now in a new round of downward movement. Thus, today it is recommended to stay in short positions with targets of 1.3245 and 1.3191 until the Heiken Ashi indicator turns up. It is recommended to trade the pair again for an increase with targets of 1.3428 and 1.3489 if the price is fixed above the moving average line. In general, high-volatility "swings" are continuing now. This is not a good time to trade.
The material has been provided by InstaForex Company – www.instaforex.com
🚀If you want to get a Forex Robot Coded as per your trading strategy but are unable to do so because of the high price for the Robot then you can take advantage of the CROWD FUNDING campaigns feature. ✔ These are some crowd funding campaigns for Forex Robots, which when completed can provide the very same Forex Robot to the participants at an average price of $5-$10 per participant. ✔ You either participate in one of the already listed campaigns or send us your Forex strategy : Submit Crowd Funding Campaign , for which you would like the Forex Robot to be coded. A Crowd Funding Campaign would then be started for the same . ✔ All you have to do later on is to share the campaign online with your friends to encourage more people to participate in the campaign.
As a result, each participant can get that Forex robot for just a campaign contribution of $5 (which is the minimum). Participants can back the campaign by anything above or equal to $5 to reach the funding goal to close the campaign.