Hourly chart of the GBP/USD pair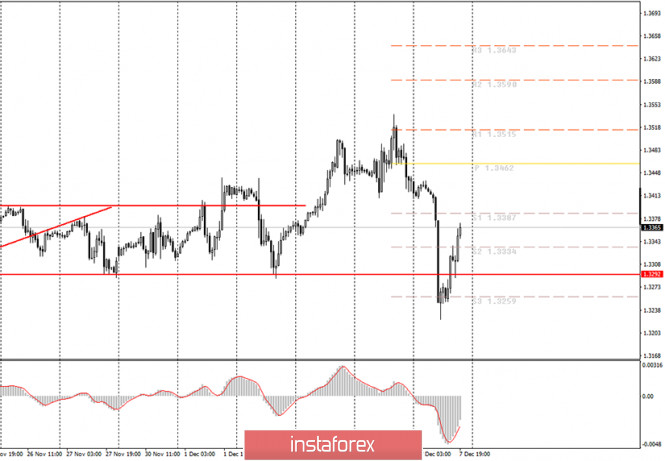 The GBP/USD pair fell by 200 points on Monday, afterwards it quickly grew by 120 points. Thus, the nature of the pair's movement remains unchanged. It is very difficult, especially for novice traders, and is something that is between a flat and high-volatility movements. In fact, there is no trend right now (this is clearly seen from the chart). The pair is trading quite volatile, but at the same time in different directions. There is no classic trend, when the pair moves mainly in one direction, correcting from time to time. Thus, beginners are encouraged to continue to wait for a better time to trade. Logically, we can expect a new round of downward movement after such a strong fall, correction and recovery of the MACD to the zero level. However, with the same degree of probability the pair may also grow back to the 1.3515 level now. As you can see from the chart, there are no trend lines now. This makes it much more difficult to analyze the pair and predict its further movement.
Everything still revolves around Brexit and negotiations on a trade deal between the UK and the EU when it comes to the British pound. And it was just announced that talks would RESUME. And that's it. No more information available. It is unclear how long this will last. How the parties want to have time to ratify the agreement on time is also unclear. It seems that the markets are tired of being optimistic, since it has not yet been concluded, and therefore the pound should collapse. If so, then according to this logic, a new round of decline may follow by today or tomorrow. However, we would like to remind you that the erratic movement is still present, and the pair has no technical constructions now.
No major events or reports scheduled in the UK and the US on Tuesday. However, as shown on Monday, traders don't really need them now. Therefore, volatility may remain quite high. In the current situation, we can only assume that the downward movement will resume after the correction ends. From the fundamental background, novice traders can only expect news on the trade talks between London and Brussels. There is nothing to do but wait. It is fundamentally calm in America right now. Nothing that could affect the pair's movement in the short or medium term.
Possible scenarios for December 8:
1) No particular trend at the moment, like any trend lines and channels. Therefore, although there is no trend now, there is no classic flat either. We advise you to wait a few days for a more convenient and better technical picture. In any case, even if you trade without a trend in the current situation, you will have to wait a long time for a new buy signal from MACD.
2) Sell positions, from our point of view, are also not convenient. There is neither a downward trend nor a signal about the end of an upward trend, and market participants are not particularly interested in the fundamental background. Even today's 200 point-drop cannot guarantee a new downward trend. Therefore, you can try to work out the next sell signal from the MACD (if it is formed near the zero level), but take note that trading is now associated with increased risks.
On the chart:
Support and Resistance Levels are the Levels that serve as targets when buying or selling the pair. You can place Take Profit near these levels.
Red lines are the channels or trend lines that display the current trend and show in which direction it is better to trade now.
Up/down arrows show where you should sell or buy after reaching or breaking through particular levels.
The MACD indicator consists of a histogram and a signal line. When they cross, this is a signal to enter the market. It is recommended to use this indicator in combination with trend lines (channels and trend lines).
Important announcements and economic reports that you can always find in the news calendar can seriously influence the trajectory of a currency pair. Therefore, at the time of their release, we recommended trading as carefully as possible or exit the market in order to avoid a sharp price reversal.
Beginners on Forex should remember that not every single trade has to be profitable. The development of a clear strategy and money management are the key to success in trading over a long period of time.
The material has been provided by InstaForex Company – www.instaforex.com
🚀If you want to get a Forex Robot Coded as per your trading strategy but are unable to do so because of the high price for the Robot then you can take advantage of the CROWD FUNDING campaigns feature. ✔ These are some crowd funding campaigns for Forex Robots, which when completed can provide the very same Forex Robot to the participants at an average price of $5-$10 per participant. ✔ You either participate in one of the already listed campaigns or send us your Forex strategy : Submit Crowd Funding Campaign , for which you would like the Forex Robot to be coded. A Crowd Funding Campaign would then be started for the same . ✔ All you have to do later on is to share the campaign online with your friends to encourage more people to participate in the campaign.
As a result, each participant can get that Forex robot for just a campaign contribution of $5 (which is the minimum). Participants can back the campaign by anything above or equal to $5 to reach the funding goal to close the campaign.