Hourly chart of the EUR/USD pair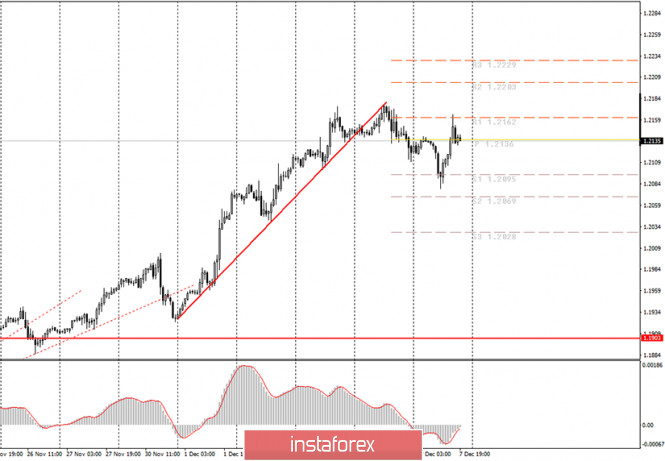 The EUR/USD pair dropped to the first support level of 1.2095 on Monday, December 7 and after that a round of upward movement began, which ended near the resistance level of 1.2162. Therefore, the pair showed decent volatility since there wasn't any news on Monday. The most important thing is that the quotes have not been able to update last Friday's high, which gives grounds to assume a new round of downward movement. In our previous review, we advised you to buy the euro based on a buy signal from MACD. This signal was generated this morning. Although it was not that successful, nevertheless, novice traders could earn 15-20 points. Now, taking into account the rebound from the 1.2162 level, we believe that quotes will start to drop, so we need to look for sell signals. Unfortunately, traders only have one formal trend line, which the quotes crossed a couple of days ago. This formality also preserves good chances for bringing back the upward trend. And the fundamental background has long been ranked third or fourth in importance among the factors that are taken into account by market participants.
No important news or fundamental event in the European Union on Monday. Therefore, we would like to draw your attention to any event, but to do so now would just end up confusing newcomers. The most important thing that they should understand is that there are no visible reasons for strengthening the euro and there have not been any in recent weeks. Thus, there is a high degree of probability that the euro is strongly overbought. We still believe that a downward trend is very likely in the near future, but at the same time, the higher timeframes signal good chances for the pair to rise. Therefore, the situation is very ambiguous. You should be careful.
No important publications or events scheduled in the EU and the US on Tuesday. All the topics that could theoretically interest traders are not momentary, they are unlikely to be followed by a reaction of "straight away". Novice traders can now follow the news regarding the conflict between Poland and Hungary and the European Commission. The development of this conflict could lead to an ideological split in the EU or to blocking the budget for 2021-2027 and the pandemic recovery fund for longer than a couple of weeks.
Possible scenarios for December 8:
1) Long positions have ceased to be relevant at the moment, since the price overcame the trend line. Thus, since it rebounded from the 1.2162 level, we recommend closing long deals on the pair. We advise you to consider new long positions but there should be a new upward trend or the downward trend should end. Such a development is not expected in the next 10-12 hours.
2) Trading down on Tuesday is more appropriate. We believe that the euro/dollar pair can and should make a new downward spurt, and it can begin now. Thus, either you should wait for a sell signal from the MACD (it may take some time to appear), or do so right now, but with a Stop Loss above 1.2162, you can open short positions while aiming for 1.2095 and 1.2069.
On the chart:
Support and Resistance Levels are the Levels that serve as targets when buying or selling the pair. You can place Take Profit near these levels.
Red lines are the channels or trend lines that display the current trend and show in which direction it is better to trade now.
Up/down arrows show where you should sell or buy after reaching or breaking through particular levels.
The MACD indicator (14,22,3) consists of a histogram and a signal line. When they cross, this is a signal to enter the market. It is recommended to use this indicator in combination with trend lines (channels and trend lines).
Important announcements and economic reports that you can always find in the news calendar can seriously influence the trajectory of a currency pair. Therefore, at the time of their release, we recommended trading as carefully as possible or exit the market in order to avoid a sharp price reversal.
Beginners on Forex should remember that not every single trade has to be profitable. The development of a clear strategy and money management are the key to success in trading over a long period of time.
The material has been provided by InstaForex Company – www.instaforex.com
🚀If you want to get a Forex Robot Coded as per your trading strategy but are unable to do so because of the high price for the Robot then you can take advantage of the CROWD FUNDING campaigns feature. ✔ These are some crowd funding campaigns for Forex Robots, which when completed can provide the very same Forex Robot to the participants at an average price of $5-$10 per participant. ✔ You either participate in one of the already listed campaigns or send us your Forex strategy : Submit Crowd Funding Campaign , for which you would like the Forex Robot to be coded. A Crowd Funding Campaign would then be started for the same . ✔ All you have to do later on is to share the campaign online with your friends to encourage more people to participate in the campaign.
As a result, each participant can get that Forex robot for just a campaign contribution of $5 (which is the minimum). Participants can back the campaign by anything above or equal to $5 to reach the funding goal to close the campaign.