This morning before the publication of the US nonfarm payrolls, GBP/USD is trading above the 21-day EMA that is seen on a 1-hour chart. The pair is trading at around 1.3465 at the time of writing, the bullish force is accompanying this pair and it is still way to the 1.3549 7/8 murray zone.
The sentiment around Brexit is increasingly critical, there are still some problems to be solved. Fisheries, governance and equality remain sticking points, and some more negotiations are needed to finish this process. A deal would boost the pound, as long as this doesn't happen, the British pound is being helped by market euphoria.
On the technical level, we note that GBP / USD has a bullish target in the 1.3549 (7/8) area, since there is strong daily support at 1.3427, which coincides with the 6/8 line of murray key area for the GBP / USD to find a nice bullish bounce, or hold on to bullish momentum. The EMA 21 days is in favor of the trend.
On the contrary, a break of the 1.3427 support, would initiate a correction of the pair to the support zone of the EMA-200 days around 1.3370, and pointing lower to the support of 1.3305.
The eagle indicator is reaching the overbought zone, although it still has a certain path to give a bullish signal, so we must be careful to sell at these levels mentioned above.
Our recommendation is to buy above the 21-day EMA, only if it remains above 1.3460, if the price breaks this level, we must obtain to buy because there may be a correction or a change in trend. You have to pay careful attention to support and resistance levels.
Market sentiment for today December 4 shows that there are 63% of investors who are selling this pair, which is a significant decrease, as that would give an opportunity to sell the British pound for the next week to supports of approximately 1.33.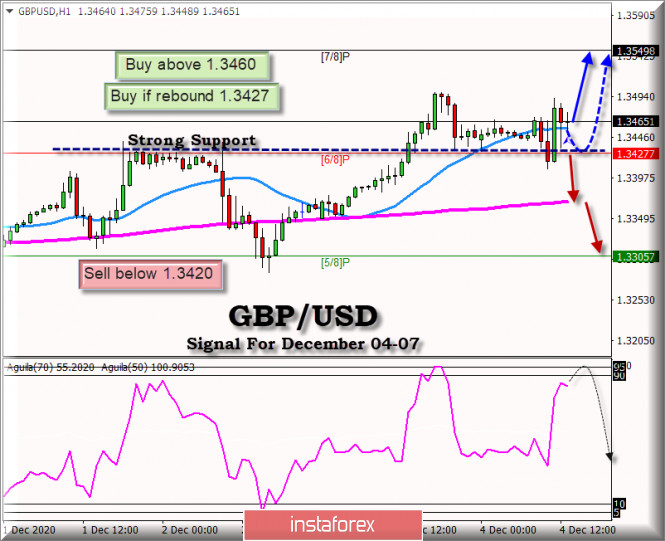 Trading tip for GBP/USD for December 04 – 07
Buy above 1.3460 (EMA 21), with take profit at 1.3549 , stop loss below 1.3400.
Buy if the pair rebound around 1.3427 (6/8), with take profit at 1.3549 , stop loss below 1.3400.
Sell if the pair approaches strong resistance of 1.3549 (7/8) with take profit at 1.3460 (EMA 21) and 1.3427, and stop loss above 1.3585.
Sell if the pair breakout to 1.3427, with take profit 1.3370 and 1.3305, Stop loss above 1.3465.
The material has been provided by InstaForex Company – www.instaforex.com
🚀If you want to get a Forex Robot Coded as per your trading strategy but are unable to do so because of the high price for the Robot then you can take advantage of the CROWD FUNDING campaigns feature. ✔ These are some crowd funding campaigns for Forex Robots, which when completed can provide the very same Forex Robot to the participants at an average price of $5-$10 per participant. ✔ You either participate in one of the already listed campaigns or send us your Forex strategy : Submit Crowd Funding Campaign , for which you would like the Forex Robot to be coded. A Crowd Funding Campaign would then be started for the same . ✔ All you have to do later on is to share the campaign online with your friends to encourage more people to participate in the campaign.
As a result, each participant can get that Forex robot for just a campaign contribution of $5 (which is the minimum). Participants can back the campaign by anything above or equal to $5 to reach the funding goal to close the campaign.