On Monday, US stock indices reported a slight decline, but at the same time recorded the highest monthly growth since April this year. They showed a slight correction after a clear upward trend in the previous week.
The Dow Jones Industrial Average fell 0.91% and closed at 29638.64 points, but all in all increased by 11.84%, which was a record rise since January 1987. The S&P 500 also decreased by 0.46% and closed at 3621.63 points, but all in all increased by 10.75% and showed the highest monthly growth since April and a record leap since 1928. Meanwhile, the NASDAQ Composite fell 0.06% and closed at 12198.74 points.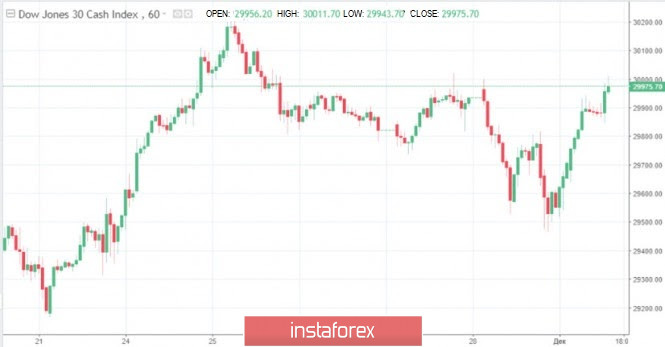 The main reason for this is the improved investor sentiment amid positive news on COVID-19 vaccines. Pharmaceutical giants Pfizer, Moderna and AstraZeneca have reported successful trials of their drugs, after it showed high performance.
On Monday, Moderna shared the results of their final test, which says their COVID-19 vaccine was 94.1% effective on initial analysis, and 100% effective in severe cases of coronavirus. The company said it will send a request to the U.S. Food and Drug Administration and the European Medicines Agency for approval to use the drug it developed.
A meeting of the FDA committee to evaluate the safety and effectiveness of the vaccine is tentatively scheduled for December 17. Representatives of Moderna expect to be able to expand vaccinations throughout the United States shortly after receiving an emergency use authorization. Against this news, stocks of Moderna increased by 20.24% yesterday.
The development of effective drugs inspires hope that the economic turmoil caused by the coronavirus pandemic will gradually begin to fade away in 2021. But aside from that, investor optimism has fueled a decrease in political tensions following the US presidential election. Just recently, incumbent US President, Donald Trump, said he was ready to leave the White House if the Electoral College declares his defeat.
Experts say that the reaction of many market participants to the coronavirus vaccine was too hasty and emotional. In their opinion, investors should not forget that many details and characteristics of the drug require careful study, and its implementation will take some time.
In addition, the increase of COVID-19 incidence in the US remains frightening, and after celebrating Thanksgiving and related trips around the country, many specialists predict the worsening of epidemiological situation in many states. They also project increased incidence in the Christmas season, when contacts between relatives and friends traditionally increases significantly.
Anyhow, the following are what happened to the stocks of many American companies:
Among the growth leaders of the DJIA were shares of Apple Inc. which rose 3.59% and reached 120.78 points, Intel Corp's which grew 1.42% and closed at 48.12 points, and Walmart Inc which gained 0.44%, amounting to 152.26 points.
Meanwhile, shares of Chevron Corp. topped the list of losses, the value of which decreased by 4.13%, ending the session at around 87.54 points. Dow Inc. increased by 3.74% and closed at 53.33 points, while The Travelers Companies fell by 2.77% and reached 130.71 points.
The leaders of growth among the components of the S&P 500 were IHS Markit Ltd., which rose to an all-time high (up 7.15%) up to 99.20 points, Coty Inc., which gained 6.53% and closed the session at 7.34 points, and shares of Advanced Micro Devices Inc., which jumped 6.04% and reached 92.46 points.
As for EOG Resources Inc., stocks declined by 6.59% and reached 48.04 points. Pioneer Natural Resources Co. fell by 6.57% to the level of 102.84 points, while ConocoPhillips declined by 5.88% and closed at 40.27 points.
The top performers among the NASDAQ Composite were China Automotive Systems Inc., which gained 126.89% and reached 8.69, Sundial Growers Inc., which gained 100.13% and closed at 0.74, and Jaguar Health Inc. who saw a rise in shares by 62.76%, reaching 0.3418 points.
The biggest decline was led by Nikola Corp, which shed 26.85% and closed at 20.43. Appian Corp. fell by 25.72% and closed at 144.00 points, while Kandi Technologies saw a decrease by 25.84%, reaching 10.10 points.
The shares of the largest American car manufacturer, General Motors, also lost 2.71%. The company plans to supply fuel cells to Nikola, but will not receive a stake in the startup under a new partnership agreement. In press releases from both companies, it is reported that Nikola will abandon plans for a Nikola Badger pickup truck, which were part of a previous agreement with General Motors presented in September this year.
On the New York Stock Exchange, the number of securities that lost in price (2,183) exceeded the number of securities that closed with growth (761), while the quotes of 58 shares remained practically unchanged. On the NASDAQ stock exchange, 1808 companies were marked down, 1037 rose, and 59 fluctuated at the level of the previous close.
The CBOE Volatility Index, based on S&P 500 options trading, increased by 0.48% and reached 20.94 points.
As for other assets, gold futures for February delivery saw a decrease of 0.32%, amounting to $ 1,782.35 per troy ounce. WTI futures for January delivery, meanwhile, rose by 0.04% and reached $ 45.55 per barrel. Brent futures for February delivery fell by 0.31% and closed at $ 48.10 a barrel.
The EUR / USD pair also lost 0.23% and stopped at 1.1934, while the USD / JPY quotes increased by 0.27%, reaching 104.36. The USD index grew by 0.15% and hit 91.940.
The material has been provided by InstaForex Company – www.instaforex.com
🚀If you want to get a Forex Robot Coded as per your trading strategy but are unable to do so because of the high price for the Robot then you can take advantage of the CROWD FUNDING campaigns feature. ✔ These are some crowd funding campaigns for Forex Robots, which when completed can provide the very same Forex Robot to the participants at an average price of $5-$10 per participant. ✔ You either participate in one of the already listed campaigns or send us your Forex strategy : Submit Crowd Funding Campaign , for which you would like the Forex Robot to be coded. A Crowd Funding Campaign would then be started for the same . ✔ All you have to do later on is to share the campaign online with your friends to encourage more people to participate in the campaign.
As a result, each participant can get that Forex robot for just a campaign contribution of $5 (which is the minimum). Participants can back the campaign by anything above or equal to $5 to reach the funding goal to close the campaign.