The GBP/USD pair this morning of the American session is trading at 1.3325, at the time of writing this analysis. As you can see on the chart, the pound is trading within a range of 1.34 to 1.33. It is likely to determine the trend this week. Above 1.34 we could expect bullish momentum to 1.35 and 1.3570, below 1.33 the key support level of 1.3183.
This month is key because they announced that December 31, will be the deadline, to finalize the Brexit agreement. However, as of now the Brexit headlines remain contradictory, with several politicians saying a deal can be reached this week, while others are in doubt.
Analyzing the macroeconomic data, it is likely that the British pound will weaken, due to the lack of seriousness in this matter, for this we should expect a break below 1.3305, thus initiating a new downward cycle.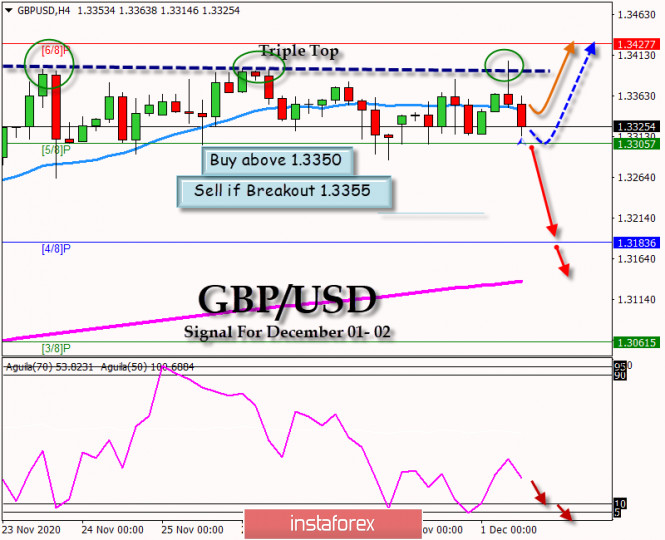 As you can see in the chart, there is a triple top reversal pattern, which if the GBP / USD fails to overcome this level and consolidate above its high of 1.3405 we could see a very strong bearish movement for the next few days.
Our recommendation is to sell below Murray's 5/8, since there is strong support at this level, due to the range it has made this last week, with targets in the 200-day Ema zone around 1, 3150.
On the other hand, only if the pair remains above 1.3350, we will we be able to buy. We must be very cautious as the dollar index (USDX) is recovering from its low of 91.47 and is bouncing this morning. The eagle indicator is under bearish pressure.
Market sentiment shows that there are 62% of investors who are selling GBP/USD. We have seen a small decrease. If this data declines more, it is likely that we will see a further slide in the pair to the 1.3150 area for the next few days.
Trading tip for GBP/USD for December 01 – 02
Buy if the pair remains above1.3350 with take profit at 1.3399 (triple top) and stop loss below 1.3320.
Sell if the pair breaks out to 1.3305 with take profit 1.3250 and 1.3180 and stop loss above 1.3350.
The material has been provided by InstaForex Company – www.instaforex.com
🚀If you want to get a Forex Robot Coded as per your trading strategy but are unable to do so because of the high price for the Robot then you can take advantage of the CROWD FUNDING campaigns feature. ✔ These are some crowd funding campaigns for Forex Robots, which when completed can provide the very same Forex Robot to the participants at an average price of $5-$10 per participant. ✔ You either participate in one of the already listed campaigns or send us your Forex strategy : Submit Crowd Funding Campaign , for which you would like the Forex Robot to be coded. A Crowd Funding Campaign would then be started for the same . ✔ All you have to do later on is to share the campaign online with your friends to encourage more people to participate in the campaign.
As a result, each participant can get that Forex robot for just a campaign contribution of $5 (which is the minimum). Participants can back the campaign by anything above or equal to $5 to reach the funding goal to close the campaign.