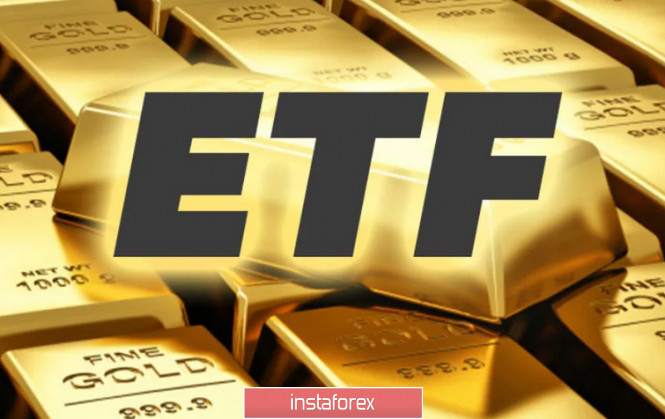 According to many analysts, the massive sell-offs of ETFs are impacting the price of gold.
"Bulk ETF sales continue to put pressure on precious metals. Thus, gold ETFs tracked by Bloomberg registered a further 10 tonnes outflow yesterday," Carsten Fritsch, analyst at Commerzbank said.
Meanwhile, Colin Hamilton, managing director at BMO Capital Markets, claimed it was the increasing risk appetite that drives ETF outflow.
"Gold ETF stocks continue to fall as good news on vaccines induce risk appetite. It led to a net outflow of over a million ounces over the past week," Hamilton said on Thursday.
The huge wave of sales emerged when good news about the COVID-19 vaccine came out. In this regard, investors believe that prices will return to normal next year.
Some market participants also assume that governments and central banks will return to more prudent fiscal and monetary policies next year, that is why they are selling gold. But, according to Fritsch, this assumption is likely to be wrong.
"With this thinking, gold is likely to remain under pressure in the short term", Fritsch said.

"However, potential weakness in the dollar could support the precious metal for a period of time", Hamilton said. "We expect gold to remain in the range of $ 1,800-1900 an ounce for the rest of the year, unless we see aggressive profit-taking following the gains seen earlier this year," he added.
TD Securities also said the news of successful vaccine trials is good for gold in the long run, due to rising inflationary expectations next year.
"As we can recall, the driving force behind the inflow of investment in precious metals was the rate cuts. In this context, the vaccine will ultimately be a boon for central bank policy, helping it strengthen inflationary expectations," they said.
Taking this into account, gold will remain an attractive investment despite the recent ETF sales.
"Capital, of course, will continue to seek refuge from negative rates. However, it should not be forgotten that the likelihood of the price falling below $ 1850 per ounce is increasing, despite the hopes of investors seeking support at this mark. Thus, the balance of risks before potential growth may change asymmetrically," they added.
The material has been provided by InstaForex Company – www.instaforex.com
🚀If you want to get a Forex Robot Coded as per your trading strategy but are unable to do so because of the high price for the Robot then you can take advantage of the CROWD FUNDING campaigns feature. ✔ These are some crowd funding campaigns for Forex Robots, which when completed can provide the very same Forex Robot to the participants at an average price of $5-$10 per participant. ✔ You either participate in one of the already listed campaigns or send us your Forex strategy : Submit Crowd Funding Campaign , for which you would like the Forex Robot to be coded. A Crowd Funding Campaign would then be started for the same . ✔ All you have to do later on is to share the campaign online with your friends to encourage more people to participate in the campaign.
As a result, each participant can get that Forex robot for just a campaign contribution of $5 (which is the minimum). Participants can back the campaign by anything above or equal to $5 to reach the funding goal to close the campaign.