To open long positions on GBP/USD, you need:
Yesterday's sales from 1.3310 brought quite good profit. In yesterday's forecast, I drew attention to the 1.3310 area and advised you to open short positions from it. If you look at the 5-minute chart, you will see how the buyers failed to break the 1.3310 level, and the bears took advantage of this and formed a false breakout, which then caused an excellent entry point for short positions to appear.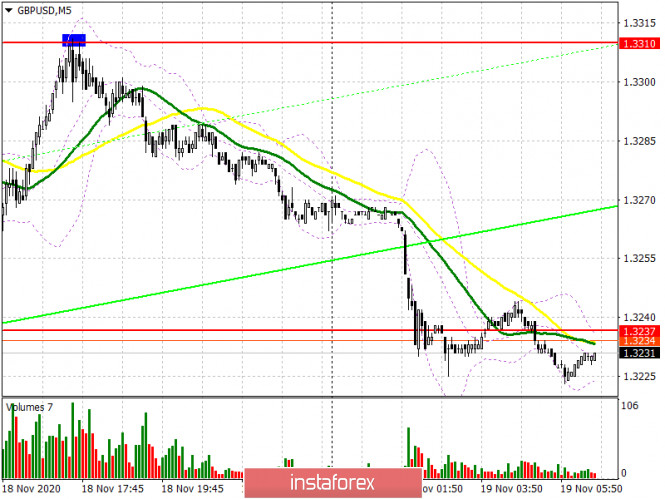 Traders will focus on 1.3237, since the pair's succeeding direction depends on who takes control over it. Buyers need to gain a foothold above 1.3237 and test it from top to bottom, which will produce a convenient entry point to long positions in hopes for the pair to return to the resistance area of 1.3310, which is where the pair mainly fell yesterday. Settling above 1.3310 will lead to a more powerful bullish momentum, in anticipation of updating the highs 1.3378 and 1.3476, which is also where I recommend taking profits. However, such a scenario will only be possible if we receive progress on Brexit talks. In case GBP/USD falls further, it is best not to rush into buy positions, but to wait for the update of a large low at 1.3168, from where you can open long positions on a rebound during the first test of this range, counting on a correction of 20-25 points. In case bulls are not active in this area, I recommend buying the pound only at a larger local low of 1.3106.
To open short positions on GBP/USD, you need:
The bears have taken a wait-and-see attitude and the main focus is now on protecting resistance at 1.3237. Sellers' behavior at this level will determine the pair's succeeding direction. If buyers are not active, then forming a false breakout in the 1.3237 area will be the first signal to open short positions in the pound, counting on it to fall to support 1.3168, which is now the middle of the horizontal channel. We can only say that the bears have taken control of the market when they have settled below the 1.3168 level, which will quickly pull down the pound to the lower border of this channel at 1.3106, where I recommend taking profits. We can speak of a breakthrough of this range only if we receive news of another failed negotiations on a trade agreement, which will pull down the pound to the area of the lows of 1.3034 and 1.2976, where I recommend taking profit. In case bears are not active at 1.3237, it is best to postpone short positions until the test of the monthly high of 1.3310, or sell the pound immediately upon a rebound from resistance 1.3378, counting on a downward correction of 20-30 points within the day.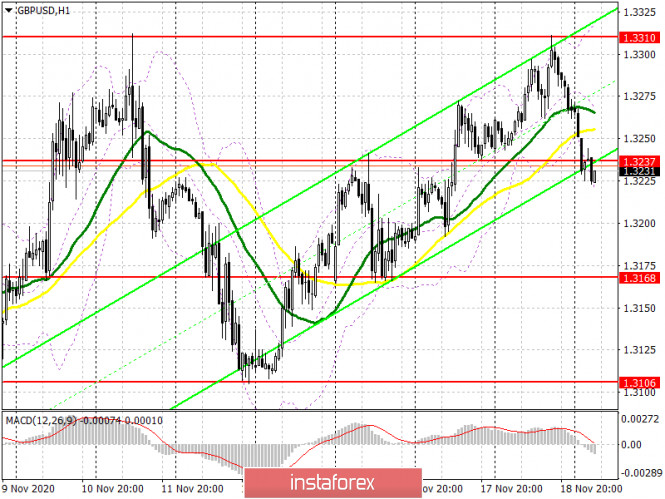 The Commitment of Traders (COT) report for November 10 showed a slight increase in long positions and a sharp inflow of short positions. Long non-commercial positions rose from 27,701 to 27,872. At the same time, short non-commercial positions increased from 38,928 to 45,567. As a result, the negative non-commercial net position was -17,695, against -11,227 weeks earlier, which indicates that the sellers of the British pound retains control and also shows their minimal advantage in the current situation.
Indicator signals:
Moving averages
Trading is carried out below 30 and 50 moving averages, which indicates the likelihood of further downward correction of the pound.
Note: The period and prices of moving averages are considered by the author on the H1 hourly chart and differs from the general definition of classic daily moving averages on the D1 daily chart.
Bollinger Bands
A breakout of the lower border of the indicator around 1.3235 will increase the pressure on the pound. Growth will be limited around the upper border of the indicator in the 1.3310 area.
Description of indicators
Moving average (moving average, determines the current trend by smoothing out volatility and noise). Period 50. It is marked in yellow on the chart.
Moving average (moving average, determines the current trend by smoothing out volatility and noise). Period 30. It is marked in green on the chart.
MACD indicator (Moving Average Convergence/Divergence — convergence/divergence of moving averages) Quick EMA period 12. Slow EMA period to 26. SMA period 9
Bollinger Bands (Bollinger Bands). Period 20
Non-commercial speculative traders, such as individual traders, hedge funds, and large institutions that use the futures market for speculative purposes and meet certain requirements.
Long non-commercial positions represent the total long open position of non-commercial traders.
Short non-commercial positions represent the total short open position of non-commercial traders.
Total non-commercial net position is the difference between short and long positions of non-commercial traders.
The material has been provided by InstaForex Company – www.instaforex.com
🚀If you want to get a Forex Robot Coded as per your trading strategy but are unable to do so because of the high price for the Robot then you can take advantage of the CROWD FUNDING campaigns feature. ✔ These are some crowd funding campaigns for Forex Robots, which when completed can provide the very same Forex Robot to the participants at an average price of $5-$10 per participant. ✔ You either participate in one of the already listed campaigns or send us your Forex strategy : Submit Crowd Funding Campaign , for which you would like the Forex Robot to be coded. A Crowd Funding Campaign would then be started for the same . ✔ All you have to do later on is to share the campaign online with your friends to encourage more people to participate in the campaign.
As a result, each participant can get that Forex robot for just a campaign contribution of $5 (which is the minimum). Participants can back the campaign by anything above or equal to $5 to reach the funding goal to close the campaign.