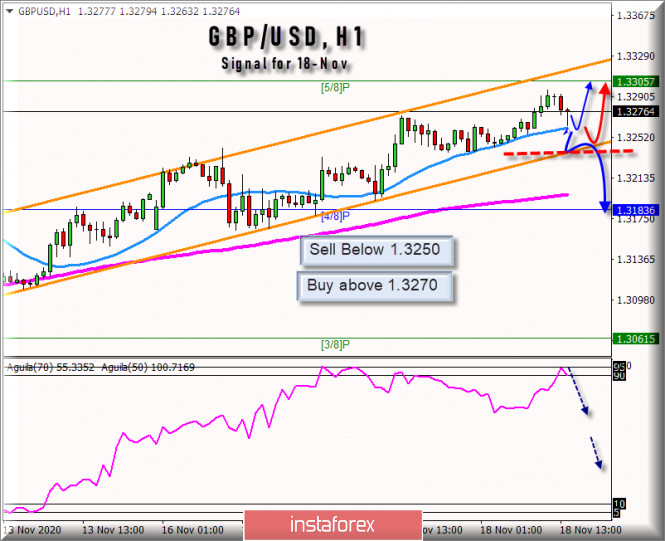 The GBP / USD pair continues to move higher, this morning in the American session it reached the maximum of 1.3297, while it is trading above the 21-day EMA, around 1.3260, it is very likely that it will still have bullish strength up to 1,3305 (5/8 of murray).
The British pound has a bullish bias, supported by the hopes of a possible last minute Brexit deal, if so it is likely that there will be a rally to the 1.3427 zone (6/8 murray)
On the other hand, since the eagle indicator is showing a bearish signal, we are likely to expect a correction, only if the pair breaks the 1.3250 level, it would advance to the 200-day EMA at 1.3183 (4/8 of a murray).
We must be careful when selling this pair as it is being supported by fundamental data, so our recommendation is that you buy this pair every time it rebound around support.
A more sustainable downward movement can be seen only if it trades below the 200 EMA 1.3183 zone, only then, we can sell with targets up to the psychological level of 1.30.
The eagle indicator is at the level of 90, there could still be more strength up to the 95 overbought area, so it is likely that the market will still look for movements with an upward trend.
Market sentiment shows that 61% of investors are short, which supports the analysis that there may be even more upward movement of the pair to levels of 1.3305 and 1.3427 in the medium term.
---
Trading tip for GBP/USD for November 18:
Buy if the pair rebounds around 1.3260 (EMA 21) with target at 1.3305 and 1.3367, stop loss below 1.3230
Buy if the pair rebounds around 1.3245 (Trend line) with target at 1.3305 and stop loss below 1.3220
Sell if the pair breaks below 1.3240 with take profit at 1.3183 (EMA 200) and stop loss above 1.3270 (EMA 21)
The material has been provided by InstaForex Company – www.instaforex.com
🚀If you want to get a Forex Robot Coded as per your trading strategy but are unable to do so because of the high price for the Robot then you can take advantage of the CROWD FUNDING campaigns feature. ✔ These are some crowd funding campaigns for Forex Robots, which when completed can provide the very same Forex Robot to the participants at an average price of $5-$10 per participant. ✔ You either participate in one of the already listed campaigns or send us your Forex strategy : Submit Crowd Funding Campaign , for which you would like the Forex Robot to be coded. A Crowd Funding Campaign would then be started for the same . ✔ All you have to do later on is to share the campaign online with your friends to encourage more people to participate in the campaign.
As a result, each participant can get that Forex robot for just a campaign contribution of $5 (which is the minimum). Participants can back the campaign by anything above or equal to $5 to reach the funding goal to close the campaign.