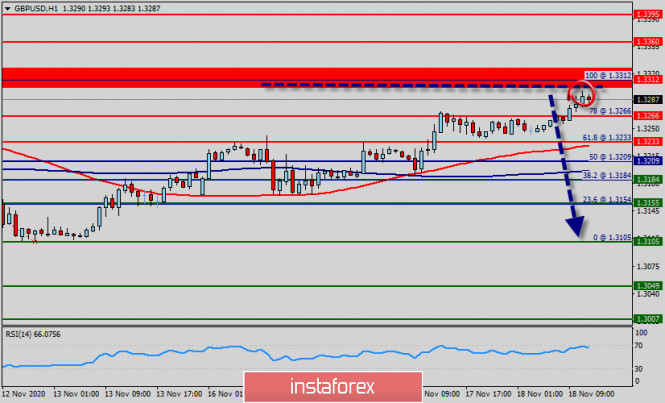 Overview :
The GBP/USD pair faced resistance at the level of 1.3360, while minor resistance is seen at 1.3312. Support is found at the levels of 1.3266 and 1.3233.
Also, it should be noted that a daily pivot point has already set at the level of 1.3209. Equally important, the GBP/USD pair is still moving around the key level at 1.3266.
Yesterday, the GBP/USD pair continued to move upwards from the level of 1.3209. The pair rose from the level of 1.3209 (this level of 1.3209 coincides with the double bottom) to the top around 1.330.
In consequence, the GBP/USD pair broke resistance, which turned strong support at the level of 1.3209. The level of 1.3209is expected to act as major support today.
From this point, we expect the GBP/USD pair to continue moving in the bullish trend from the support level of 1.3209 towards the target level of 1.3312. If the pair fails in passing through the level of 1.3312, the market will indicate the bearish opportunity below the level of 1.3312 in order to back to the pivot point at 1.3209.
Furthermore, if the GBP/USD pair is able to break out the bottom at 1.3209, the market will decline further to 1.3184 (daily support 1).
Hence, the price will fall into a bearish trend so as to go further towards the strong support at 1.3155 to test it again. The level of 1.3105 will form a double bottom.
On the other hand, if the price closes above the strong resistance of 1.3360, the best location for a stop loss order is seen above 1.3395.
The material has been provided by InstaForex Company – www.instaforex.com
🚀If you want to get a Forex Robot Coded as per your trading strategy but are unable to do so because of the high price for the Robot then you can take advantage of the CROWD FUNDING campaigns feature. ✔ These are some crowd funding campaigns for Forex Robots, which when completed can provide the very same Forex Robot to the participants at an average price of $5-$10 per participant. ✔ You either participate in one of the already listed campaigns or send us your Forex strategy : Submit Crowd Funding Campaign , for which you would like the Forex Robot to be coded. A Crowd Funding Campaign would then be started for the same . ✔ All you have to do later on is to share the campaign online with your friends to encourage more people to participate in the campaign.
As a result, each participant can get that Forex robot for just a campaign contribution of $5 (which is the minimum). Participants can back the campaign by anything above or equal to $5 to reach the funding goal to close the campaign.