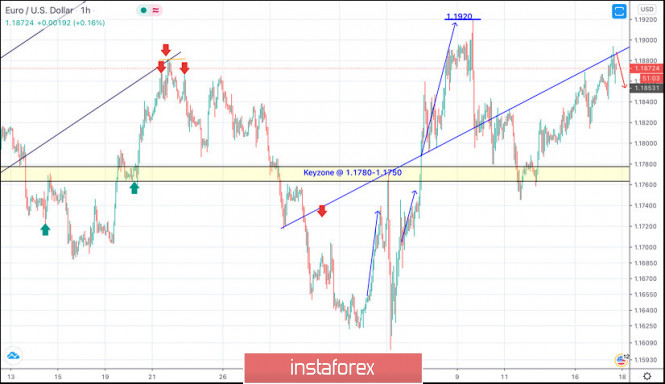 Few Weeksago, the price zone around 1.1880-1.1900 constituted a KEY Price-Zone as it corresponded to the backside of the depicted broken ascending channel where significant bearish pressure and a reversal Head & Shoulders pattern were demonstrated.
Recently, Two opportunities for SELL Entries were offered upon the recent upside movement towards 1.1880-1.1900. All target levels were achieved. EXIT LEVEL was reached around 1.1720.
Early signs of bullish reversal were demonstrated around the recent price levels of 1.1600.
Shortly after, the EUR/USD pair has demonstrated a significant BUYING Pattern after the recent upside breakout above the depicted price zone (1.1750-1.1780) was achieved.
As mentioned in the previous article, the pair has targeted the price levels around 1.1920 which exerted considerable bearish pressure bringing the pair back towards 1.1800 which constitutes a prominent KEY-Zone for the EUR/USD pair.
Thus, the pair remains trapped between the price levels of 1.1750-1.1900 until breakout occurs in either directions.
The material has been provided by InstaForex Company – www.instaforex.com
🚀If you want to get a Forex Robot Coded as per your trading strategy but are unable to do so because of the high price for the Robot then you can take advantage of the CROWD FUNDING campaigns feature. ✔ These are some crowd funding campaigns for Forex Robots, which when completed can provide the very same Forex Robot to the participants at an average price of $5-$10 per participant. ✔ You either participate in one of the already listed campaigns or send us your Forex strategy : Submit Crowd Funding Campaign , for which you would like the Forex Robot to be coded. A Crowd Funding Campaign would then be started for the same . ✔ All you have to do later on is to share the campaign online with your friends to encourage more people to participate in the campaign.
As a result, each participant can get that Forex robot for just a campaign contribution of $5 (which is the minimum). Participants can back the campaign by anything above or equal to $5 to reach the funding goal to close the campaign.