Hourly chart of the EUR/USD pair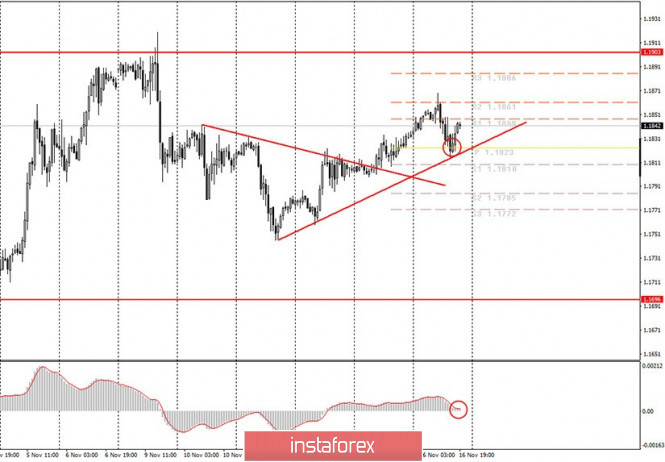 The EUR/USD currency pair sharply corrected on Monday, but it was thanks to this correction that a new upward trend line appeared, and this particular trend is visible to novice traders and will also signal the moment when it will be broken. In general, it is much more convenient to trade any pair and instrument when there is a trend line or channel. After the price settled above the downward trend line, traders were already advised to consider options for buy positions. In principle, today's upward movement lasted only until about lunch. Then the price began to fall, which the MACD indicator quickly responded to by turning down. However, a couple of hours ago, the MACD indicator turned up again, which together with a new trend line and a rebound from it gives a good buy signal. As before, we expect an upward movement no further than the upper limit of the 1.17-1.19 horizontal channel, in which the euro/dollar pair has been trading for three months.
Novice traders had nothing to pay attention to on Monday. This happens from time to time. However, we already expected that there will hardly be active trading and strong movements in the pair. Not a single report nor an important event during the day. Even the speech of the head of the European Central Bank Christine Lagarde in no way influenced the movement of the pair. Thus, traders will have to wait for new information, which may come at any time and is unplanned. Fortunately, a trend line has now appeared, which greatly facilitates the process of analysis and forecasting.
Lagarde is set to speak again on Tuesday. However, most likely, it will also not be interesting, so there will be no reaction to it, just like it was to today's speech or Friday's speech. The US is set to release its data for October retail sales, but the actual change for this month must be very different from the forecast in order for the markets to react to it. In recent months, traders have often ignored macroeconomic statistics, paying attention only to the most important reports like inflation or GDP. And even then not always. Thus, it is highly likely that tomorrow's fundamental background will not affect the course of trading in any way. Perhaps some new information will come from Donald Trump, really important information, but now there is very little chance of that.
Possible scenarios for November 17:
1) Long positions are now relevant since traders managed to take the pair above the downward trend line, and then an upward trend line appeared. The growth potential of the euro, as always, is limited by the 1.1903 level, however, you can manage to get a profit even before this level. The MACD indicator has already produced a new buy signal, therefore you are advised to trade up while aiming for 1.1861 and 1.1886.
2) Trading for a fall at this time is irrelevant, since there is a pronounced upward trend. Thus, novice traders are advised to wait for the eloquent completion of the upward trend in order to have a reason to open short positions. Namely, the price should settle below the trend line. In this case, open short positions while aiming for 1.1810 and 1.1785.
On the chart:
Support and Resistance Levels are the Levels that serve as targets when buying or selling the pair. You can place Take Profit near these levels.
Red lines are the channels or trend lines that display the current trend and show in which direction it is better to trade now.
Up/down arrows show where you should sell or buy after reaching or breaking through particular levels.
The MACD indicator (14,22,3) consists of a histogram and a signal line. When they cross, this is a signal to enter the market. It is recommended to use this indicator in combination with trend lines (channels and trend lines).
Important announcements and economic reports that you can always find in the news calendar can seriously influence the trajectory of a currency pair. Therefore, at the time of their release, we recommended trading as carefully as possible or exit the market in order to avoid a sharp price reversal.
Beginners on Forex should remember that not every single trade has to be profitable. The development of a clear strategy and money management are the key to success in trading over a long period of time.
The material has been provided by InstaForex Company – www.instaforex.com
🚀If you want to get a Forex Robot Coded as per your trading strategy but are unable to do so because of the high price for the Robot then you can take advantage of the CROWD FUNDING campaigns feature. ✔ These are some crowd funding campaigns for Forex Robots, which when completed can provide the very same Forex Robot to the participants at an average price of $5-$10 per participant. ✔ You either participate in one of the already listed campaigns or send us your Forex strategy : Submit Crowd Funding Campaign , for which you would like the Forex Robot to be coded. A Crowd Funding Campaign would then be started for the same . ✔ All you have to do later on is to share the campaign online with your friends to encourage more people to participate in the campaign.
As a result, each participant can get that Forex robot for just a campaign contribution of $5 (which is the minimum). Participants can back the campaign by anything above or equal to $5 to reach the funding goal to close the campaign.