EUR/USD
The euro pulled away from the 1.1754 level last Friday and went beyond the resistance of the balance indicator line on the daily chart. The Marlin oscillator has entered the positive zone, indicating the prospect of price growth. The growth target is the MACD line at the 1.1910 level, which coincides with the high on July 31 (blue mark).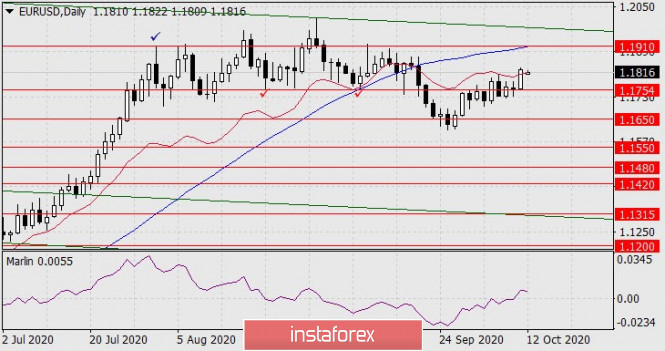 The price settled above the signal level of 1.1810 on the four-hour chart, and even today's gap could not outwit this support. Marlin rises in the bullish zone. But the price forms a double or even, albeit not quite clear, triple divergence with the oscillator. And here, after slightly struggling above the signal level, a downward reversal is possible.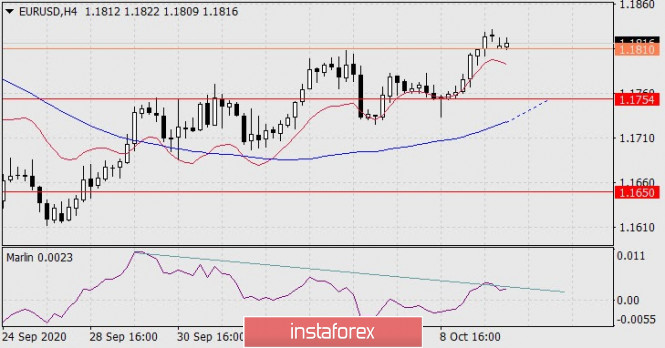 Forming the final downward trend in the medium-term trend will progress if the price settles below the target level of 1.1754. It is possible that by the time the price attacks this level, the MACD line will also approach it.
The euro's growth looks strong on the daily chart, we will determine the probability of rising to 1.1910 at 60%, but the market can easily take advantage of the remaining 40% of the reversal scenario. The first condition for further growth is when the price settles above the Friday high. We are waiting for the development of events.
The material has been provided by InstaForex Company – www.instaforex.com
🚀If you want to get a Forex Robot Coded as per your trading strategy but are unable to do so because of the high price for the Robot then you can take advantage of the CROWD FUNDING campaigns feature. ✔ These are some crowd funding campaigns for Forex Robots, which when completed can provide the very same Forex Robot to the participants at an average price of $5-$10 per participant. ✔ You either participate in one of the already listed campaigns or send us your Forex strategy : Submit Crowd Funding Campaign , for which you would like the Forex Robot to be coded. A Crowd Funding Campaign would then be started for the same . ✔ All you have to do later on is to share the campaign online with your friends to encourage more people to participate in the campaign.
As a result, each participant can get that Forex robot for just a campaign contribution of $5 (which is the minimum). Participants can back the campaign by anything above or equal to $5 to reach the funding goal to close the campaign.